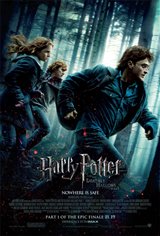 Harry Potter and the Deathly Hallows: Part 1
848 Reviews
|
Write a Review
In Theaters: November 19, 2010
PG-13 | Action, Adventure, Fantasy, Drama, Other, Sci-Fi | 2h 26m
4.03/5
Based on 2788 votes and 848 reviews.
48.56%

27.86%

8.28%

8.94%

6.37%
Please rate between 1 to 5 stars
Showing 21-30 of 848 reviews
March 31, 2011
was confused at times. dark but good, has it's funny moments, i'm looking forward to the next installment.
March 29, 2011
good movie as always
March 28, 2011
Finally a worthy potter film after the fiasco of number 6. strong cast performances and a darker storyline. can't wait for the last one.
March 28, 2011
The story is getting darker but as always it is excellent! The characters have developed as the actors age and they carry the story very well. They are like old friends and I am very concerned about their well being. Looking forward to Part 2.
March 26, 2011
The best of the Harry Potter series - so far - this movie made me cry several times and I can't wait for the next half.
March 25, 2011
Great movie, for those that have read the books and even better movie!
March 25, 2011
This is my favourite out of all the movies. CAN'T WAIT FOR PART 2! :D
March 25, 2011
I think you need to read the books, or at least watch the last movie before going to see this one. It was a little confusing if you didn't remember what happened in the previous book/movie.
March 24, 2011
I think J.K Rowling has done a wonderful job in creating characters that grow with the audience.
March 23, 2011
Great movie! I haven't seen all the Harry Potter movies but I went to see this one anyway and very much enjoyed it!