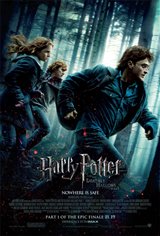 4.03/5
Based on 2788 votes and 848 reviews.
Please rate between 1 to 5 stars
Showing 11-20 of 848 reviews
April 4, 2011
Overall a good movie but a bit of a let down too, graphics and overall quality is excellent but storyline was hit or miss.
April 4, 2011
The most accurate movie of the series. Fantastic. All the best parts of the book were included.
April 4, 2011
This movie was top-notch. Perhaps my utmost favourite amongst the series.
April 4, 2011
This movie was really well done. There were parts that were slow, but relivent. It shows the aging process and builds characters. The story line wasa great and I can't wait to see Part two.
April 4, 2011
The movies will never be as good as the books but this one was definitely better than some of the other films in the series. Lots of action and of course fighting between Ron and Hermione. You aren't waiting the whole movie for something to happen like in The Order of Phoenix, it gets going right away
April 4, 2011
I love Harry Potter movies, can't wait for the finally this Summer.
April 4, 2011
It was a little bit dark + depressing but I loved it. It's too bad we have to wait SO long to see the second half.
April 2, 2011
Really slow and drawn out. Some scenes felt like fillers so they can make more money by making another movie.
April 1, 2011
The cast is growing up so much. It's nice to see them again in this.
March 31, 2011
Im 63 and have followed Harry Potter from the beginning. I really enjoy all the movies and feel connected to all the cast. Bonnie