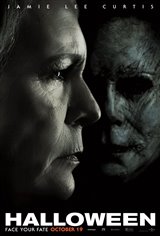 Halloween
| 80 Reviews
Write a Review
In Theaters: October 19, 2018
On DVD/Blu-ray: January 15, 2019
2.21/5
Based on 444 votes and 80 reviews.
Please rate between 1 to 5 stars
Showing 11-20 of 80 reviews
November 26, 2018
I don't know what movie these people below me saw, but this installment of Halloween was amazing. In the same vein as the original. The scares hinged on tension, not bloodbath.
November 25, 2018
This really has been a terrible year for sequels (Deadpool 2, Creed II, and now Halloween). I'd give this a zero if I could.
November 23, 2018
The acting and feeling from the characters are marvelous and the action scenes are well done
November 19, 2018
the movie is great....
November 17, 2018
I love the Halloween movies but this one was crap.
November 16, 2018
I and my family loved this movie! If you enjoy the Halloween movie series you will love this.
November 15, 2018
A horror film that does not properly exploit fear, but was created by it. Studios are afraid of risk and red balance sheets, so this is the latest regurgitated crap that is being fed to moviegoers. Jamie Lee once again returns to piss all over the legacy of John Carpenter - the man who gave Jamie her big career break - because she is deathly afraid of career obscurity. The Shape (Michael Myers) returns and really wants to try and kill Jamie Lee again. He could just wait a little while for Father Time to do the job, but I guess he really wants to cut off her penis and doesn't want to wait. Too familiar to be effective at all. Nostalgia isn't scary.
November 14, 2018
Slow at first but after Michael Myers escape the movie is a good time
November 8, 2018
Not a good movie, too slow and boring. Weak story and poor script.