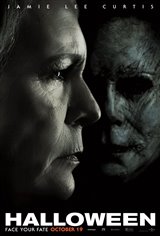 Halloween
| 80 Reviews
Write a Review
In Theaters: October 19, 2018
On DVD/Blu-ray: January 15, 2019
2.21/5
Based on 444 votes and 80 reviews.
Please rate between 1 to 5 stars
Showing 71-80 of 80 reviews
October 20, 2018
movie isnt perfect. Jamie Lee Curtis plays Lori Stobe but this time around her acting with this character was average at best. Was not impressed with ending/
October 20, 2018
Not very good at all...though loved the ending !
October 19, 2018
A chiched mess. All of the scares were beaten out of this dead horse many films ago.
October 19, 2018
It's really bad. Jamie Lee should be embarrassed.
October 19, 2018
Trash. Feeble attempts at frights and chuckles. Cheaply rides the coattails of Carpenter's classic film and dresses it up as nostalgia, when it's actually just economic strip-mining of intellectual property. Don't be duped.
October 19, 2018
I grew up with the Halloween ffranchise so for me this was a "must see" especially since Jamie Lee was starring in it. As a horror movie fan, Halloween and Friday the 13'th will always be my favourite classics. This movie was not as good as I was hoping it would be but there were several Deja vu moments from the original and this franchise plain and simple will always bring me back to the theatre. Enjoy all you 40 and 50 somethings ????
October 18, 2018
Great scare for the Horror fans. Loved it.
October 16, 2018
Quite possibly the most enjoyable sequel since Home Alone 3. I think you'll agree.
October 15, 2018
The first person to post here has reviewed the original film, but this is the page for the latest cynical cash-grab installment. Ugh.
October 13, 2018
The best there is the best there was and the best there ever will be. If you're watching this for the first time, you'll notice all the horror tropes that people take for granted today. This oozes atmosphere and it emphasizes suspense over gore.