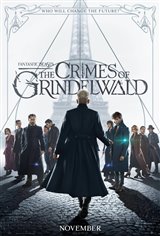 Fantastic Beasts: The Crimes of Grindelwald
| 46 Reviews
Write a Review
In Theaters: November 16, 2018
On DVD/Blu-ray: March 12, 2019
3.66/5
Based on 154 votes and 46 reviews.
Please rate between 1 to 5 stars
Showing 11-20 of 46 reviews
December 4, 2018
LOVED IT!!!! #JOHNNY DEPP!!!!
December 4, 2018
Confusing and annoying. Too much time spent on the special effects. Almost got up and walked out, which I've never done on a movie before. And I'm a big Harry Potter fan, in spite of my age (over 60).
December 4, 2018
Loved it!! As good if not better than the first one!!
December 3, 2018
Lots of needless dialogue. This movie could have been half as long. Another snoozer from our high priestess of the underworld, JK Rowling. Even though this movie is really bad, come join her cult of the underworld. Hail Satan.
December 2, 2018
Wasn't sure if I'd like it, because I didn't really like the first one. This one was better and I enjoyed it. If you don't know the storyline, google it before you go -it helps to know what's going on, especially if you're not a huge Harry Potter fan and don't really know the back story.
December 2, 2018
A good movie just a little bit slow
November 30, 2018
Loved everything about this movie and seeing it in 3D made it that much better
November 29, 2018
Amazing surprises await. I went in neutral and came away very impressed. You must know the Harry Potter series and you need to see the first movie of this series to get the most understanding from it. Awesome.
November 27, 2018
Loved it! Great story, acting and special effects. Plus Johnny Depp was PERFECT as Grindlewald!!
November 27, 2018
I'm baffled by the negativity from the critics - I loved this movie. The plot is intricate and full of great characters with rich backstories. I thought the acting was stellar, in particular Eddie Redmayne, Zoe Kravitz, Judd Law and most especially Johnny Depp. I'll be seeing it tomorrow for the 2nd time. My only complaint is that I must wait 2 years for the next installment.