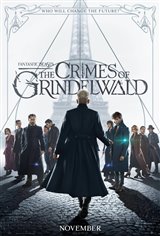 Fantastic Beasts: The Crimes of Grindelwald
| 46 Reviews
Write a Review
In Theaters: November 16, 2018
On DVD/Blu-ray: March 12, 2019
3.66/5
Based on 154 votes and 46 reviews.
Please rate between 1 to 5 stars
Showing 1-10 of 46 reviews
January 25, 2019
This was a fantastic movie! I loved it!
January 22, 2019
FANTASTIC
December 23, 2018
It really didn't have a story line rambled too much. It was hard to follow. I was very dissappointed.
December 19, 2018
SO MANY AMAZING PLOT TWISTS! Much needed backstory helps explain the current predicament as well as the characters, old and new. Great blend of humor, romance that isn't lusty and hasty, intriguing and unique characters, and action. Fantastic Beasts 2 is truly fantastic!!
December 19, 2018
Terrible jumble of a story that made no sense. JK Rowling should leave screenwriting the the pros. She clearly is out of her depth here.
December 17, 2018
Hated it. Will never see another.
December 15, 2018
very bad, I will no paid for tickets the second part,
December 14, 2018
I should have seen "Ralph Breaks the Internet"!!!!! I yawned most the way through the movie but the last 13 minutes had potential. One thing I learned from researching 'how to write a story' is to kill the darlings --darlings are snippets in a movie or book that the author loves dearly but doesn't make the story move forward at a rapid pace. These darlings may make our eyes roll or cause us to yawn or snicker; it kills the momentum,.
December 13, 2018
Sucked! It was all over the place and I love harry potter
December 9, 2018
Just such a great and an amazing movie to go and watch!!!!! I have (and my entire family) been Harry Potter fans/nerds ever since Harry Potter had first come out ( note that I am only fifteen though on December 23rd) and this movie was not one to disappoint, it even had some mad backstory on some of the well known characters in the Harry Potter series/movies!!!!! -Sage Autumn Hansen-