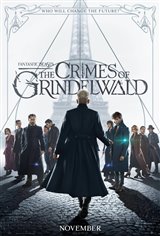 Fantastic Beasts: The Crimes of Grindelwald
| 46 Reviews
Write a Review
In Theaters: November 16, 2018
On DVD/Blu-ray: March 12, 2019
3.66/5
Based on 154 votes and 46 reviews.
Please rate between 1 to 5 stars
Showing 21-30 of 46 reviews
November 26, 2018
Enjoyed this movie, didn't see first. I describe it as Harry Potter for grown ups. Acting of Depp and Redmayne really stood out. All actors gave very good performances but those two elevated the crew. Not for kids, but most teens will enjoy. It's not an action movie but instead a movie about the complexity of character and self determination. If into existentialism, this is definitely for you! Could even be a morality play but goes much deeper.
November 26, 2018
I like the Harry Potter movies and J.K. Rowling so I was looking forward to this. However, I still can't tell you what the plot is supposed to be. Characters come and go with seemingly no explanation. It's all very convoluted. I felt nothing for any of the characters. It is boring, long, drawn out and makes no sense. Huge disappointment. You can miss this and save a few bucks..
November 26, 2018
This movie in 3D was crazy cool! Overwhelming big experience to see in the theater and highly recommend seeing it in the theater. You will miss this experience if you wait to see it at home. Very entertaining....no boring or dull moments at all!
November 25, 2018
Johnny Depp is back! His best since The Lone Ranger. 4/5
November 25, 2018
This movie was fantastic and creepy at the same time.
November 23, 2018
Unless you're a Potter fan, pass on this movie. A better option is to wait until the entire series is complete and you can watch it at home, or not, as it does get overwhelming boring.
November 23, 2018
Loved it. The acting was excellent, it was much better than the first "Fantastic Beasts", which I liked. I think J.K. Rowling does Britain better than the U.S., loved seeing Hogwarts again and the British settings again. Excellent movie that leaves you hanging a little bit, in a good way.
November 22, 2018
Well done story. :)
November 22, 2018
Moving, action based movie. Lots of magic and artistic technology.
November 21, 2018
Fantastic movie.