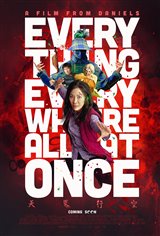 3.35/5
Based on 242 votes and 75 reviews.
Please rate between 1 to 5 stars
Showing 31-40 of 75 reviews
May 18, 2022
This film has a hundred fresh and interesting ideas when most have one or maybe two
May 16, 2022
Funny. I enjoyed this movie. I found it to be way more entertaining than dr. Strange
May 15, 2022
Bad fell asleep and still woke up before it ended
May 15, 2022
The movie is perfect. You have to pay attention to understand it and it requires you to think for yourself and not have the answers to all your questions spoonfed to you like a child.
May 15, 2022
This movie is very bad! 👎
May 14, 2022
This movie is so bad, I left three times to use the washroom and was just trying to stay out as long as I could. On one such trip I looked up how long the run time was and was devastated to learn 2 hr 20 mins. Total waste of your time you will never get back.
May 13, 2022
Lots of layers to this movies. Exploration of deep, meaningful themes like love, nihilism, humor and self realization. Fight sequences are interesting and cinematography pretty great.
May 12, 2022
So much going on here, can't stop thinking about it . Laughed in shock, because it was funny and because it was relatable. If you are the sensitive type beware lol.
May 11, 2022
There are some profound and thoughtful messages in this film. Sadly the filmmakers do not give us enough time to process the ideas they touch upon and don't let the characters develop them either. What is more important to this film is every cinema trick and technique that has ever been invented. So they give us a lesson in quick cuts to the point of disorientation, costume glitter that is only bested by old Circe de Soule, wonderful wire kung fu flying and prat fall comedy. It's a good film, not a great film and needs an editor, which apparently was not part of the post-production process.
May 10, 2022
Other than the actor James Wong the movie is a tasteless take on puerile ancestor worship and Chinese machismo. Even the martial arts scenes are riddled with phallic humiliations and self mutilation for "comic affect?" This is a waste of otherwise talented actors. It goes on and on and will leave a bad taste on your eyeballs and brain.