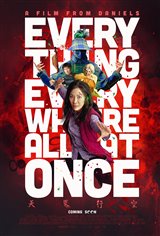 3.36/5
Based on 166 votes and 54 reviews.
Please rate between 1 to 5 stars
Showing 1-10 of 54 reviews
May 24, 2022
this has to be the worst movie i ever seen
May 24, 2022
Contemporary hipsterism. It's just masturbation and it's really insulting if you think about it. Watch a John Huston picture instead.
May 23, 2022
The star studded cast is mind blowing. This absurd but thought provoking movie had all the things. Complex family relationships, ridiculous humour and a complex multiverse concept that had you at the edge of your seat for hours. It's in my top three movies ever. I don't know if you can hate it and be my friend.
May 23, 2022
Great rapid emotional and unique
May 23, 2022
This movie is incredible, I have absolutely no understanding of the low star ratings on here; in fact, this is the only place I've seen so many low ratings for this movie. I would question that fact as strange and not let these negative reviews dissuade you from watching this movie.
May 22, 2022
great cast, very crass, attempt at humor but never delivered. very disappointed, should have got my money back
May 21, 2022
Rarely have I watched a movie that captured my attention and made me feel all my emotions! I wasn't ready!! I will watch it several times to fully understand it and give it the deep respect to the art that it deserves. The cast was stellar and roles were well chosen. The storyline though not new was very very deep and answered a lot of questions I have wondered about for a long time. Watch it for it's intellectual challenge. It's not for shallow thinkers or people with the inability to think cognitively and that's ok too. There are other genres out there to be watched and enjoyed.
May 20, 2022
This movie is a trap waste of time, neither entertaining now visually stimulating. I'm sorry I paid good money just to sit through this nonsense, those who gave it high marks must be completely out of their minds.
May 19, 2022
Star rating systems are so dumb for this movie. it was mostly entertaining from a "I wonder what's next" in terms of humorous random crap, but just past some vague midway point it turned into a yet another sappy mother daughter movie. I couldn't wait for it to end. I did laugh here and there because it was silly fun, but i also had to force a laugh at many points because i felt bad for everyone involved with the production who were duped into thinking this was going to be a brilliant splicing of culture gender family romance issues. Go see it if you are sick of the other fantasy / superhero movies on the board, but, be forewarned, you may want to leave halfway through once you realize its not going to be something new.
May 18, 2022
This film has a hundred fresh and interesting ideas when most have one or maybe two