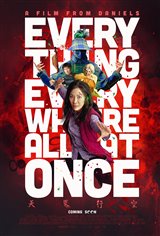 3.31/5
Based on 366 votes and 121 reviews.
Please rate between 1 to 5 stars
Showing 1-10 of 121 reviews
March 24, 2023
A lot of nonsense, time travel, jumping in and out of places, fighting, space travel?, and no plot.
March 23, 2023
Starts with mother trying to introduce her daughter as Lesbian to her father. Does ns+ endless martial arts, psychedelic nonsense,. incoherent time travel and switching from scene to another randomly. Ending? Lesbian daughter is formally introduced to father without protest. Worst movie I've ever sat through - hoping for some sanity.
March 22, 2023
It's weird. Lots of What the ? moments. Also deep and emotional and several levels. It is not a movie for simpletons. This movie is easily the best movie I saw this year. And Yes, I love Marvel movies. I Love Michael Bay movies. This is for intellectual and emotional stimulation.
March 22, 2023
Hipster trash. Avoid.
March 21, 2023
It did not take any real talent to make this movie. It was a complete waste of the time it took to view it. Everything it had to offer could have been communicated in 1/2 hour (at the most). I've lost all faith (once again) in the Academy. This ranks right up (?) there with Crash.
March 21, 2023
I laughed, I cried, I pondered. Great movie.
March 18, 2023
Hands down one of the worst movies I have ever seen. The good reviews and Oscar praise are truly mind boggling. I kept hoping this might have some redeeming value and finally turned it off 2/3 of the ways through the movie. It is that bad. I cannot fathom how so many people enjoyed this - a 13 year old boy could have written and directed this, 80% of the movie is pointless "action" scenes that include middle school humor and completely unnecessary gore. I am speechless
March 18, 2023
The movie was totally confusing and crazy. I cannot believe that it got best movie award. Worst would have been more accurate.
March 18, 2023
I think it was the most wild ride I was ever on. Deserved the awards it received. Tour de confusion & sensory overload also as some commentors described. Some what of an emotional roller coaster. NOT the simple plot, NOT THE SIMPLE ANYTHING movie. I will have to watch again to fully comprehend, simply put - it's not a movie for every one. Really enjoyed, besides the whole movie, the laugh-out-loud humor moments.
March 17, 2023
The acting was really good. The writing was abysmal. The themes were ridiculous. The back story of the main villain is that her perspective was expanded so much that she turned evil. This is the dumbest concept I have ever heard. Expanding your perspective does the opposite of turn you into a raging maniac. The villain is thwarted by giving her a hug. This is after this girl has murdered her mother and grandfather as well as entire universes of people. There is nothing sympathetic about her. The hero is the mom an adult woman. The adult woman is upset because the mom tells the senile grandfather that her girlfriend is her 'friend' to prevent the senile old man from getting confused. The lesson the mom learns is that her adult child being upset is her fault and that she needs to love her more. Again, the daughter is an adult. This is literally the worst movie I have ever seen. I honestly think who ever wrote it did so to make fun of bratty young adults who blame everything on their parents. That's the only way I can get behind this. Based on other people's reactions to the movie, though, that doesn't appear to be what it is.