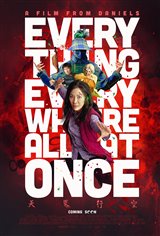 3.44/5
Based on 286 votes and 89 reviews.
Please rate between 1 to 5 stars
Showing 1-10 of 89 reviews
September 13, 2022
It's not just broad comedy, insightful look into family live and disappointment, crazy sci-fi plots, and wonderful acting by all involved. It's novel, cool and unforgettable. You may need to see it twice to get over the first shocking wild ride and understand it the second time.
August 20, 2022
This is a wonderful journey into multiple dimensions I cannot believe how terrible movies are these days and for once a reason to go see something in the theaters! This is a new favorite!
August 19, 2022
If you haven't seen the movie, go and watch it with an open mind without being affected by positive or negative reviews/synopsis beforehand. Those who hated the movie on here need to relax and have more fun in life.
August 16, 2022
Great movie, very entertaining. And it lends itself to multiple interpretations. Ignore the one-star ratings; I think they're just from idiots.
August 11, 2022
This will probably appeal to the same perverts who liked CUTIES.
August 8, 2022
I am a real person and can not understand how this movie is getting good reviews. It was a terrible movie with some funny scenes and decent action scenes. This movie tried too hard and is absurd. My sister and I kept thinking it was going to get better at some point, but we finally walked out somewhere near the end. I consider this one of the worst movies I have ever seen
August 6, 2022
The universe is meaningless and chaotic, but our lives, relationships, and choices create our experiences. A wonderful film for those ready to laugh at the strange and unexpected one moment, and then tear up the next.
August 1, 2022
This is so clearly just bots downvoting the movie and talking bad about it. Less than 8% of the votes are 2-4 stars. Almost everyone voting/commenting either loved the movie or hated it, which is quite rare. If this is Hollywood trying to steer attention to another movie, it's very pathetic.
July 30, 2022
This movie is filled with sexual innuendo, including plugs up butts while doing karate moves, weiners on fingers oozing, dildos, etc. I was really disgusted by all the raunchiness, but this is the BS Hollywood smears in our faces.
July 23, 2022
The main character was jumping from one dimension to another dimension as the same character. Was she hoping for a better life without changing herself? I never really got this movie or what it was trying to convey. I left half way through.