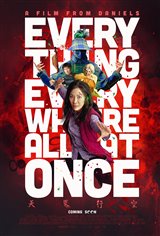 3.34/5
Based on 240 votes and 75 reviews.
Please rate between 1 to 5 stars
Showing 51-60 of 75 reviews
April 26, 2022
This movie was truly an emotional journey. It made me laugh, it made me cry, it made me laugh until I cried. It really touched on a lot of things I've been feeling lately, I'm sure things that a lot a lot of people have been seeing since the pandemic actually. What is my path in life? Have I made mistakes? Would things have turned out differently if...? What makes life worth living? The quote that her husband says, something like "In another life, I would have loved to just do laundry and taxes with you" made me bawl. Oh, and by the way, don't bring young kids unless you want to explain what a d**do is. One family in the same theatre as me made that mistake, haha. Anyways, great film!
April 25, 2022
This movie made no sense to either my wife or I. Left midway thru the show.
April 24, 2022
Horrible. It makes no sense. Left after one hour. Never been to a movie like this before. Total waste of time. Sorry there is no 0/5 stars.
April 24, 2022
Hipster nonsense with Jamie Lee Curtis as a villainous old man.
April 23, 2022
Buckle up folks this movie will bring emotion from depths you haven't touched in years. Visually awesome as well.
April 22, 2022
This show is a waste of time and money. I really don't know who wrote the script but they have a very weird imagination.
April 22, 2022
It was confusing, strange, all things peculiar, bizarre, and funny. It was also heartfelt, heart breaking, and sweet. It was hilariously funny at times but also thought provoking. It was one of the best movies I've ever seen.
April 21, 2022
Emotionally intense and full of surprises
April 20, 2022
Kept nodding off. Left after nearly two hours. So repetitive.