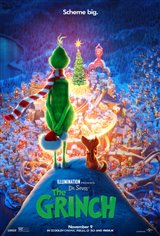 Dr. Seuss' The Grinch
52 Reviews
|
Write a Review
In Theaters: November 9, 2018
On DVD/Blu-ray: February 5, 2019
3.23/5
Based on 194 votes and 52 reviews.
42.68%

12.20%

6.10%

3.66%

35.37%
Please rate between 1 to 5 stars
Showing 41-50 of 52 reviews
November 14, 2018
Terrible! Theodor Geisel must be spinning in his grave.
November 13, 2018
I had a great time watching this film with the kids on Saturday evening. We laughed. We cheered. Fred, the overweight reindeer, was my favorite. A familiar story but different enough to be noticed. Nice work illumination studio.
November 12, 2018
Very rarely if ever is a remake better than an original movie and this one was no different
November 12, 2018
Definitely NOT an improvement on the Chuck Jones classic animated special. This doesn't deserve to be mentioned in the same breath. This was really lame!
November 11, 2018
Seriously people, it's a remake of a 60's 30 minute cartoon, anything will be an improvement on that, that said it was OK, a variation and new twist on an old Classic, enjoy it for what it is, just that. Wife and I liked it, fun spin on an old story.
November 11, 2018
GREAT SOUNDTRACK AND TWO THUMBS UP!!!!!
November 11, 2018
Really bad, and they gave the Grinch the wimpiest voice.
November 11, 2018
Even worse than the last remake. Cold and calculated.
November 11, 2018
Ugh, what a slog this was! Leave the classics alone already!!!
November 10, 2018
Good movie. Not quiet as good as the original but well made and entertaining.