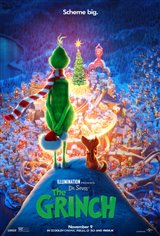 Dr. Seuss' The Grinch
| 52 Reviews
Write a Review
In Theaters: November 9, 2018
On DVD/Blu-ray: February 5, 2019
3.23/5
Based on 194 votes and 52 reviews.
Please rate between 1 to 5 stars
Showing 21-30 of 52 reviews
December 9, 2018
Awsome movie my kids loved it and so did my husband and I. It is a must see for the for the holiday season!!
December 8, 2018
Horrible only good part was dog, Cindy lue who was horrible and all of who vile was so off from the orginal movie! Never will watch again. They got to stop trying to remake classic movies.
December 3, 2018
It was slow, awkward, extremely washed out to make it's family matters point. AND they made the grinch such a wimp. Not even close to the Jim Carrey Grinch.
December 1, 2018
Great family movie! A good blend of the classic tale and new creative ideas. Likeable Grinch character and modern Cindy Lou. Kudos to the people who created all the gadgets in the movie...very clever! Thoroughly enjoyed all the chuckles!
December 1, 2018
I thought it was very cute and not too long for a young audience.
November 28, 2018
I took my family to see this garbage. Everyone hates each other now.
November 28, 2018
this movie is really good and my son liked it a lot..!
November 26, 2018
Kind of boring. I didn't laugh much. And when I did it was a half-hearted chuckle, mostly because I wanted it to be funny. the Grinch character was not "grinchy" at all. I absolutely didn't buy him as the character we all have read about and watched every Christmas for generations. I liked the other characters. But the grinch should be where it's at. It's not. Boo.
November 26, 2018
Just terrible. They turned the Grinch into a wimp! Aargh!!
November 26, 2018
The Grinch is too friendly, the script verbiage is not Seuss like, barely worth buying on video.