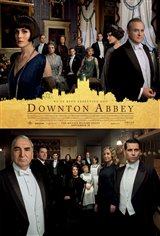 Downton Abbey
| 135 Reviews
Write a Review
In Theaters: September 20, 2019
On DVD/Blu-ray: December 17, 2019
PG | Drama | 2h 2m
4.42/5
Based on 416 votes and 135 reviews.
Please rate between 1 to 5 stars
Showing 31-40 of 135 reviews
October 17, 2019
Wonderful movie. Funny, entertaining, full of surprise with a twist. Loved all the characters, the music and more. Saw it three times. Cannot wait for a sequel.
October 15, 2019
Terrific
October 15, 2019
Liked the movie - my friends who saw it at Paso de Oro viewed a prologue of the past tv segments to explain how the current characters and plot got to this point. This was not shown at my viewing. Very disappointed to not have this presented.
October 13, 2019
I liked the costumes but found the movie slow.
October 12, 2019
To the commenter below griping about the "gay scene": what did they actually show? Thomas dancing, or a brief parting kiss with Richard, and that disappointed you? So when they show Tom kissing Lucy, and touching her hand, or Henry kissing Lady Mary (a lot more passionately then the "gay" kiss), you take no issue with that? And your not a homophobe .... right ...
October 12, 2019
Loved it! The cinematography was spectacular, as one would expect. Nice story, nice extension from the series.
October 12, 2019
GREAT for those who are fans of the show and have seen it enough to remember everything. I'm a live & let live person myself, but I was highly disappointed they HAD to throw in the gay scene-like actually SHOW it to us. We already got the picture/hint that Thomas was gay. They should've stayed with the nature of the show and kept it subtle. (go ahead and scream 'homophobe' if you want, there will be no changing your mind after what I said, I'm satisfied in knowing that I am not at all-I'm basically an old fashion, PDA makes me cringe, especially noisy PDA!)
October 11, 2019
Never watched the series and very glad I didn't. It was boring and the storeyline was lackluster. The gay scene wasn't necessary. Not a fan of this show at all. Skip it.
October 10, 2019
Don't waste your coin...I'm an American GD it! Too stuffy and repetitive.
October 9, 2019
Stunning cinematography. Captivating to watch. Loved the TV series and thoroughly enjoyed seeing the cast again in this superb movie! Hope there will be a sequel.