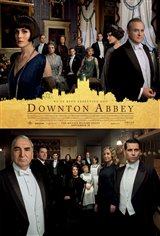 Downton Abbey
135 Reviews
|
Write a Review
In Theaters: September 20, 2019
On DVD/Blu-ray: December 17, 2019
PG | Drama | 2h 2m
4.42/5
Based on 416 votes and 135 reviews.
76.29%

6.70%

6.70%

3.09%

7.22%
Please rate between 1 to 5 stars
Showing 1-10 of 135 reviews
December 28, 2019
Just loved it. Would love to see another movie of Downton Abbey or another series of them on TV.
November 29, 2019
Well written, lovely costumes and scenery, tied up loose ends for many characters. Maggie Smith is a gem.
November 20, 2019
I love Downton Abbey It is one of my favorite movies. When it was on Netflix I watch every episode 11 times . I felt like I was there with them.
November 18, 2019
I think this movie is great. It is fantastic that the same actors were used in the movie. Would highly recommend
November 12, 2019
Boring, only deals with Aristocracy, very pedantic and pretentious character. Movie for women mostly.
November 9, 2019
the movie moved very smoothly, excellent cast and beautifully presented. I enjoyed every minute and may see it again.
November 8, 2019
It was great seeing the Downton Abbey family again and the show was so good I saw three times.It was great and I hope there is a sequel
November 5, 2019
LOVED IT!! It was great to see all the characters again. I recommend watching the movie twice. I loved it the first time - but being so in awe of seeing all of my "old friends" ....I missed some of it . The second time was even better if that's possible. OH I HOPE THEY HAVE A SEQUEL ....
November 4, 2019
The inclusion of gay men scenes was distasteful.
November 2, 2019
GoIng to see it for the 3rd time tomorrow....LOVE IT.