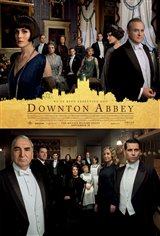 Downton Abbey
| 135 Reviews
Write a Review
In Theaters: September 20, 2019
On DVD/Blu-ray: December 17, 2019
PG | Drama | 2h 2m
4.42/5
Based on 416 votes and 135 reviews.
Please rate between 1 to 5 stars
Showing 51-60 of 135 reviews
October 4, 2019
An absolute fresh breeze after way too many "action-terror" car crash films endlessly shown month after month
October 3, 2019
My husband and I loved every minute of this movie. We were sorry when it ended.
October 3, 2019
As good as the series and well worth the wait!
October 3, 2019
beautiful! for 2 hours they stayed true to the characters..a truly ensemble movie in which they got character involved. plot had to be simple it was only a 2 hour movie. I think you had to be a fan of the series to truly enjoy and appreciate this wonderful show.
October 3, 2019
There was so much going on that I would call this a super-charged episode of the show. It was an episode, but an extra amazing one!
October 3, 2019
my husband and I absolutely loved the series - the movie was beautiful to look at and we love the cast - but were very disappointed because was a very weak/ almost nonexistent plotline.. I totally hate to say that.my husband was bored especially for the first half hour.. even though we are very devoted fans. - We were expecting much more from Julian Fellows in this movie. But we do know people who just loved it - (we can;t figure that out!)
October 3, 2019
Amazing Movie, I saw the whole series, & it's Fabulous!!!! Love it!!!
October 2, 2019
Blimey, a real gem. Superb acting, costumes, era placement...just great. Kinda opens a window of what the upper snobby elite upper class were possibly like, and then the servants maids et al and their interaction with the Kings servants pecking order and the Brits love of their King. The King back then was Jesus coming to earth. Lots of verbal snipes between all and no F...words. Amazing, it can be done. Slow but great mini stories.
October 2, 2019
I think it was a super movie I enjoyed everything about it It was entertaining and for a change no F... bombs. Well played everyone and lots of good humour
October 1, 2019
Just terrific - superb acting! - fabulous writing ! Better than expected - tv series though to equal or beat - they did it!