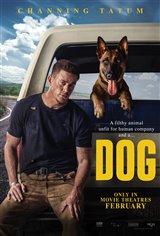 Dog
| 30 Reviews
Write a Review
In Theaters: February 18, 2022
On DVD/Blu-ray: May 10, 2022
PG-13 | Comedy | 1h 30m
4.1/5
Based on 102 votes and 30 reviews.
Please rate between 1 to 5 stars
Showing 1-10 of 30 reviews
April 9, 2022
Nice comedy, love the military part too
April 5, 2022
I loved that the dog, helped the PTSD soldier get back on solid ground! One of those movies that makes you realize that you never know what someone or animal is going through. I like leaving with a good feeling after an emotional rollercoaster!
March 26, 2022
I love animal movies and this one was an excellent one
March 24, 2022
I enjoyed this movie a lot. It did a good Job of developing the character…lots of funny & touching moments & of course easy on the 👀
March 21, 2022
Acting pretty good, Dog was amazing, real K-9 . Military story and informative.
March 18, 2022
Great Movie...Shows the true heroism and conflict of not only our fighting soldiers but their dogs too. A compassionate film ...beautifully written and filmed. Loved the expression of the journey of two lost souls. I seen it twice...and the second time around..it was even better... Linda
March 16, 2022
We saw some reviews that weren't that great but went anyway. So glad we did! We really love this movie and the acting was fantastic. Yes, I cried.
March 15, 2022
I love the fact that there is a dog in the movie. A kind of tribute to military. Very heartwarming. My new favorite movie ever.
March 14, 2022
Super cute movie! Took my dad and we both loved it!!
March 13, 2022
This is a delightful portrayal of the reality of how PTSD exists in both humans and animals. Most poignantly how these two healed each other through love and acceptance.