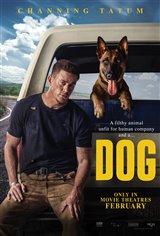 Dog
| 30 Reviews
Write a Review
In Theaters: February 18, 2022
On DVD/Blu-ray: May 10, 2022
PG-13 | Comedy | 1h 30m
4.1/5
Based on 102 votes and 30 reviews.
Please rate between 1 to 5 stars
Showing 21-30 of 30 reviews
February 26, 2022
Very entertaining, ChanningTatum is a very good actor and so watchable. Lulu was a fine dog and portrayed her part of the story so well.
February 26, 2022
Dog lovers will appreciate and admire the role military dogs play. Outstanding loyalty, fidelity, obedience 'till the end. It's same with civilian pets. Negative point: Pets and children SHOULD NEVER be left in a vehicle alone with closed windows. Transitions from one scene/episode/situation in the movie were omitted. Movie never shows when dog is fed, given water or even walked. Only robots can b treated that way. Overall, movie is good and entertaining. 🌟🌟🌟
February 25, 2022
I thought it was really well done- expected something very different - there was a pretty strong storyline regarding PTSD in the man as well as the dog. I appreciated seeing what seemed to be what these people go through on returning from war as well as the dog. I liked that it wasn't just a dog story.
February 21, 2022
GOOD ENJOYABLE MOVIE- ALL THE WAY AROUND!!
February 19, 2022
Loved the idea of the plot but this film went nowhere. The situations never seemed to get developed. Didn't care for the pace of the editing. Scenes were shallow and uninteresting. I waited through the entire movie for it to start. It just didn't hold my interest. Good cast, some cute moments, but there was a predictable flow to the film. Needed better writing.
February 19, 2022
Cute, funny, thought-provoking, human. All wrapped up in one.
February 18, 2022
Good movie! Mix of laughs and touching moments. We loved it.
February 18, 2022
Had more drama to me. True to Life My husband said "It's wasn't cheesy". We liked it, and I like when the characters stay true !
February 11, 2022
Dog is great.
February 11, 2022
Enjoyable to watch.