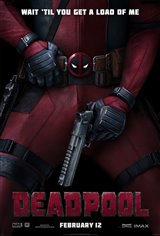 Deadpool
218 Reviews
|
Write a Review
In Theaters: February 12, 2016
R | Action, Adventure, Fantasy, Comedy, Science-Fiction | 1h 48m
3.98/5
Based on 1068 votes and 218 reviews.
67.35%

6.80%

3.40%

1.02%

21.43%
Please rate between 1 to 5 stars
Showing 51-60 of 218 reviews
February 28, 2016
Awesome !!!!!! Best movie ever
February 28, 2016
Exactly what i wanted in a Deadpool movie!
February 27, 2016
NOT for kids under 14. With that said an amazing movie and very different from the others. R rated super hero that takes no prisoners. Great!!!
February 27, 2016
Poor. Stay home and watch Santa Claus The Movie again.
February 26, 2016
Santa Claus:The Movie was funnier than this.
February 25, 2016
I found this movie entertaining and funny. This is the best marvel movie so far, looking forward to part 2.
February 25, 2016
I went in with low expectations but this movie kicked butt, people who are too sensitive and goody two shoe should avoid this movie. This movie is hilarious, finally a movie for adults.
February 24, 2016
This film is DINO (Deadpool-In-Name-Only). If you want to see the REAL Deadpool, watch the X-Men Origins Wolverine movie.
February 24, 2016
Technically I can only give this film a 5 out of 5 bit let's be honest it is a 97 out of 10. Best superhero film EVER!!!!
February 23, 2016
You can only appreciate if you're a nerd. Otherwise pointlessly offensive and sometimes humorous.