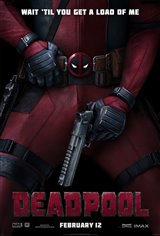 Deadpool
218 Reviews
|
Write a Review
In Theaters: February 12, 2016
R | Action, Adventure, Fantasy, Comedy, Science-Fiction | 1h 48m
3.98/5
Based on 1068 votes and 218 reviews.
67.35%

6.80%

3.40%

1.02%

21.43%
Please rate between 1 to 5 stars
Showing 41-50 of 218 reviews
March 5, 2016
Besides not seeing Deadpool behead anyone, the movie was perfect!
March 4, 2016
Fun movie! Don't take your kids though.
March 3, 2016
Hilarious and well done!
March 3, 2016
A little tiresome at the start but actually has a story line and some pretty good laughs as the movie progresses; sarcastic Ryan Reynolds at his best. I liked it better than my husband did however.
March 2, 2016
Everything and more than you could want in an-anti hero movie! Ryan Reynolds is at his sarcastic best. Enough comedy to make the bloodshed palatable, particularly the slo-mo instropective take on the action sequences. Looking forward to more Deadpool!
March 2, 2016
great movie!! by far the best superhero movie... more of a teen movie than adult but love it!1
February 29, 2016
I can't remember the last time I enjoyed a movie this much...whether it was the comedy or the action. Just amazing!
February 29, 2016
From the opening credits to the finish, all I did was laugh. This was so good!
February 29, 2016
Dumb.
February 29, 2016
Well I can't believe I'm saying this but this movie is worst than that worthless two hours of my life I wish I could get back Star Wars film.