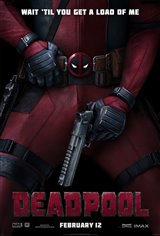 Deadpool
218 Reviews
|
Write a Review
In Theaters: February 12, 2016
R | Action, Adventure, Fantasy, Comedy, Science-Fiction | 1h 48m
3.98/5
Based on 1068 votes and 218 reviews.
67.35%

6.80%

3.40%

1.02%

21.43%
Please rate between 1 to 5 stars
Showing 31-40 of 218 reviews
March 19, 2016
At least the girl was cute...
March 18, 2016
Amazing
March 14, 2016
So adding this to the family movie library when it hits dvd! Great!
March 13, 2016
I thought it was an amazing super/anti-hero movie! The action was slick and fresh, the love story actually worked as did the character development, and the flashbacks were great complimenting more character development. At first from the trailers, I thought it might have been too cheesy, but I loved the crap out of this movie.
March 13, 2016
Took the entire family and had a blast!
March 13, 2016
Loved it! Ryan at his best!
March 11, 2016
So funny. I'd watch it again. Don't bring your kiddies.
March 11, 2016
Great movie good comedy
March 7, 2016
Ryan Reynolds ROCKS!!! Loved it - going to see it again, you will be laughing out loud
March 6, 2016
I'm going to watch it again. Love! But don't take your kids.