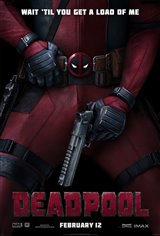 Deadpool
218 Reviews
|
Write a Review
In Theaters: February 12, 2016
R | Action, Adventure, Fantasy, Comedy, Science-Fiction | 1h 48m
3.98/5
Based on 1068 votes and 218 reviews.
67.35%

6.80%

3.40%

1.02%

21.43%
Please rate between 1 to 5 stars
Showing 11-20 of 218 reviews
May 25, 2016
Amazing!!!!
May 25, 2016
Very entertaining and good plot
May 19, 2016
not bad but is a bit too violent, not for people sensitive to blood.
May 16, 2016
a nice change from the seriousness of other movies
May 16, 2016
I thoroughly enjoyed this film and thought it was hilarious!
May 11, 2016
The best movie i've ever seen only thing that may top it will be Deadpool 2.
April 28, 2016
One of the most refreshing movies I have seen in years. I am not a fan of super hero movies so was somewhat hesitant to see this one. This sets super hero movies apart. Great acting and an outstanding script. Loved it. I hope a part 2 is made...
April 24, 2016
I loved this movie. Lots of action & also comedy. Ryan Reynolds was awesome.
April 18, 2016
Deadpool is Dead On! If you're going in expecting an academy award winner than you don't know who Deadpool is. If you want a phenomenal action movie with one of the best comedic actors out there then you will LOVE this movie just as much as I did. Enjoy!
April 9, 2016
Great movie!