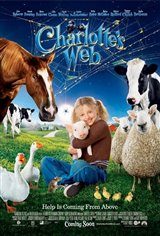 Charlotte's Web
39 Reviews
|
Write a Review
In Theaters: December 15, 2006
4.05/5
Based on 917 votes and 39 reviews.
59.77%

18.75%

4.30%

1.56%

15.63%
Please rate between 1 to 5 stars
Showing 21-30 of 39 reviews
December 26, 2006
like the movie. should watch it . great for kids and adults
December 26, 2006
good family movie but was slow at times - my 6 year old did enjoy the movie though
December 23, 2006
My 8 yr old loved it!
December 19, 2006
Great children`s show. Mom enjoyed it too.
December 19, 2006
A friend of mine and my two children aged 8 and 5 went to see this movie. I thought it was one of the best family movies we had seen in a long time. There was no foul language...even questionable. There was no violence. No big super heroes (unless you consider some of the farm animals heroes). All of us loved this movie.
December 19, 2006
The movie is great. The voices are so convincing that it seems to bring the animals to life. I took my 78 year old mother to it and she loved it. 4 stars Great for all ages
December 17, 2006
good but i cant find out who is who! P.S. the book is at least 10, no 20 times better!(the movie was good the book ROOLZ)
December 17, 2006
The movie stays close to the original. Its a bit slow at times, but the CG is really well done. a good clean family film for the holidays.
December 17, 2006
WHY OH WHY DID I TAKE MY KIDS TO SEE THIS
December 17, 2006
If your going to watch this your better off seeing the cartoon ver.