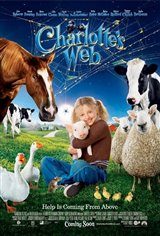 Charlotte's Web
39 Reviews
|
Write a Review
In Theaters: December 15, 2006
4.05/5
Based on 917 votes and 39 reviews.
59.77%

18.75%

4.30%

1.56%

15.63%
Please rate between 1 to 5 stars
Showing 11-20 of 39 reviews
January 26, 2007
Boring!!! Rent the original version as this one will put you to sleep!
January 21, 2007
I thought the movie was great!
January 16, 2007
It is a well made movie.Entertaining for all ages. Draw back, it should have only been released as a dvd.
January 13, 2007
It`s good. I have the same passon for animals as Fern does. I rate it a four star movie.
January 5, 2007
Best movie ever. I absolutely loved it.
January 2, 2007
This was a GREAT movie! It is very true to the children`s book and handled in a charming fashion. A MUST SEE for the whole family!
January 2, 2007
it is one of my favourite movie. can you believe that a 24 years old girl can feel so touching of a kid movie?
December 31, 2006
favorite book, favorite movie as a kid...loved it!
December 29, 2006
Great entertainment for any one. Some very funny quick one liners throughout...
December 27, 2006
I know, it`s not what I think, it`s a fun filled movie for all ages to watch.