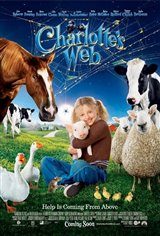 Charlotte's Web
39 Reviews
|
Write a Review
In Theaters: December 15, 2006
4.05/5
Based on 917 votes and 39 reviews.
59.77%

18.75%

4.30%

1.56%

15.63%
Please rate between 1 to 5 stars
Showing 1-10 of 39 reviews
November 2, 2007
I went to see it with my little brother to kill an hour or so. I was the oldest kid there. And, wow. I read the book, watched all the animated movies and everything. I knew what happened, but this just made me cry. A lot. It was really bad... Me sitting there bawling, while a whole bunch of five-year-olds stared at me... But, it was cute.
April 19, 2007
Wonderful story about finding the beauty in everything and everyone.
April 9, 2007
charlotte web is a good moive and it good for kids.love it.
April 5, 2007
I am a little tired of seeing Dakota Fanning in everything, I dont want to see or hear her.
March 28, 2007
i love the book better but the movie is good too
March 18, 2007
loved this. As a kid I read the book at least 20 times and loved the cartoon version. I loved sharing this story with my kids, a true classic story.
March 12, 2007
I think it`s just like the book! It totally rocks! I thought it totally rocks!
February 16, 2007
The whole family loved this show!
February 4, 2007
It was really cute! But, Dakota Fanning is my age, 13, if you can believe it, and she plays a little kid. I DO NOT like her, but the animals were adorable! Especially Wilbur!
January 27, 2007
I woudent say it was a good movie but in this movie id say Dakota Fanning was impresive