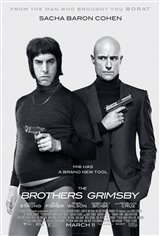 The Brothers Grimsby
Despite being a dimwitted English football hooligan, Carl "Nobby" Butcher (Sacha Baron Cohen) has everything a man from Grimsby could want, including a gaggle of children and a beautiful girlfriend (Rebel Wilson). But he's missing one thing: his younger brother Sebastian (Mark Strong).
After the two were separated as kids, Nobby spent 28 years searching for his long-lost sibling. When they finally reunite, Nobby learns that Sebastian is a wrongfully accused, on the run MI6 assassin who has just uncovered plans for a global terrorist attack. To prevent the catastrophe, Sebastian realizes he'll need the help of his idiotic big brother.