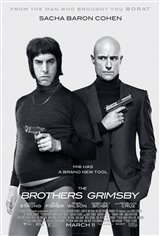 The Brothers Grimsby
14 Reviews
|
Write a Review
In Theaters: March 5, 2016
2.78/5
Based on 46 votes and 14 reviews.
30.43%

13.04%

4.35%

8.70%

43.48%
Please rate between 1 to 5 stars
Showing 1-10 of 14 reviews
July 23, 2016
No one loves a rude and crude movie more than I. However, while one joke about the male anatomy (front and back) may be funny, having a movie full of them, one after another, is not.
June 23, 2016
Solid action comedy
April 5, 2016
Great movie for lots of laughs and A few uncomfortable moments of Raunchiness
March 25, 2016
Double Oscar potential ! Best Movie of 2016 and best actor for Sasha! No doubt this movie will rank up with The Godfather as one of the best films of all time! Movie goers, be sure not to miss this classic gem. Humphrey Bogart step aside, Sasha Cohen has arrived.
March 24, 2016
Amazing movie!!!
March 21, 2016
One of the worst movies I've ever seen. It was very disgusting and foul. I never consider walking out of a movie, but I almost did on this one. A total waste of time and money on a Sunday afternoon.
March 17, 2016
movie was crude
March 16, 2016
very funny
March 15, 2016
You know what I like about the multiplexes? When you see a stinker like this, you can shift to another theatre and watch something else. I made it to ten minutes, before leaving. The popcorn was good tho, so I gave it one star.
March 14, 2016
A 1