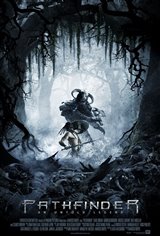 Pathfinder


In an untamed, primordial America, 500 years before Columbus will reach its shores, an epic battle between love and hate unfolds that will change one man's destiny and the future of a nation.

A Viking child becomes the lone survivor of a shipwreck, after his marauding Norse clan raids a coastal Native American village for slaves. Despite his blonde hair and strange language – and concerns that evil will follow the boy wherever he goes – the ten year-old is adopted by the local Wampanoag Indians, who raise him to become a skilled hunter and warrior.

But fifteen years later, the pale young man known to his tribe as Ghost (Karl Urban) is still trying to escape his past. Now, as the Vikings return to storm America again, this time they will carry out a barbaric attack that will annihilate Ghost's beloved tribe and endanger the woman he loves (Moon Bloodgood). Once again a survivor on the run, and thirsting for blood vengeance, Ghost comes under the guidance of the Pathfinder (Russell Means), a powerful shaman who foresees the enraged young man's unexpected destiny: as the hard-won hero who will wage a one-man war against the Vikings and becomes his people's savior.