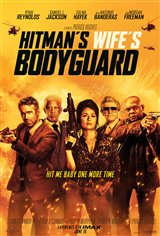 The Hitman's Wife's Bodyguard
| 21 Reviews
Write a Review
In Theaters: June 16, 2021
On DVD/Blu-ray: August 17, 2021
3.51/5
Based on 224 votes and 21 reviews.
Please rate between 1 to 5 stars
Showing 1-10 of 21 reviews
January 5, 2022
The movie was OK. Sonia, Darius and Michael did very well in the movie. The story follows Sonia and her past which was not that bad. It was nice that the movie was action comedy. The first one was way much better.
September 4, 2021
you have to have a sense of humor to enjoy this movie..Ryan is at his best with the one liners.. good chemistry/ u can tell their having fun in making this movie..comedy/action movie
August 14, 2021
Unbelievalbly bad. Ryan's smart aleck schtick is old, tired and makes you wince at how bad this covid era cheap, dustheap movie is.
July 26, 2021
My husband and I walked in the theatre without a high expectation because of the mediocre rating. However, we, especially I, laughed so much, that I had to control myself as I kept laughing for another minute or two after some hilarious scenes. Way to go Ryan, Selma and Sam.
July 24, 2021
Feel good comical movie. The three main characters were terrific and funny. I appreciatd the swearing by Selma Hyak. It was very timely. Good flick and definitely worth seeing.
July 23, 2021
I Iove Salma Hayek, She's really good actress.
July 21, 2021
Selma Hayek makes this movie more fun and more interesting than I thought it would be.
July 17, 2021
I watched about 10 minutes of this POS; deleted it and went out to do something useful after wasting 10 min of my life I'll never get back, and mowed my lawn; much better.
July 16, 2021
Saw this at 11:30 this morning which was the first theatre showing after Ontario entered Covid Stage 3. What a lively and fun ride! Totally gratuitous violence but no one could say this is serious business. Ryan Reynolds attracted me to this movie because he is simply a funny man, but Salma Hayek proved her acting chops as the wife of hitman, Samuel L. Jackson. I chuckled all the way through this crazy story/action and forgot about being alone in the theatre and not touching the area in which I was sitting. Too long in shutdown/lockdown, I loved this hilarious, lighthearted romp through Europe. All of the actors did their bit well and writing, direction and photography were well done.
July 8, 2021
What a waste of my time and money. This movie is a cartoon with non stop graphic violence. It became so monotonous, I dozed off. It might win a contest as to how many times you can say the "F" work in one movie. I went to see it because I would expect a good experience from these talented actors but this is an embarrassment to their reputation.