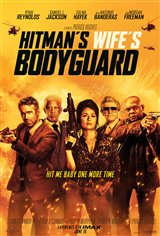 The Hitman's Wife's Bodyguard
| 17 Reviews
Write a Review
In Theaters: June 16, 2021
On DVD/Blu-ray: August 17, 2021
3.42/5
Based on 204 votes and 17 reviews.
Please rate between 1 to 5 stars
Showing 1-10 of 17 reviews
July 24, 2021
Feel good comical movie. The three main characters were terrific and funny. I appreciatd the swearing by Selma Hyak. It was very timely. Good flick and definitely worth seeing.
July 23, 2021
I Iove Salma Hayek, She's really good actress.
July 21, 2021
Selma Hayek makes this movie more fun and more interesting than I thought it would be.
July 17, 2021
I watched about 10 minutes of this POS; deleted it and went out to do something useful after wasting 10 min of my life I'll never get back, and mowed my lawn; much better.
July 16, 2021
Saw this at 11:30 this morning which was the first theatre showing after Ontario entered Covid Stage 3. What a lively and fun ride! Totally gratuitous violence but no one could say this is serious business. Ryan Reynolds attracted me to this movie because he is simply a funny man, but Salma Hayek proved her acting chops as the wife of hitman, Samuel L. Jackson. I chuckled all the way through this crazy story/action and forgot about being alone in the theatre and not touching the area in which I was sitting. Too long in shutdown/lockdown, I loved this hilarious, lighthearted romp through Europe. All of the actors did their bit well and writing, direction and photography were well done.
July 8, 2021
What a waste of my time and money. This movie is a cartoon with non stop graphic violence. It became so monotonous, I dozed off. It might win a contest as to how many times you can say the "F" work in one movie. I went to see it because I would expect a good experience from these talented actors but this is an embarrassment to their reputation.
July 6, 2021
It has 5 top notch stars in this show and I was disappointed! Constant swear words in it. I am okay with some but this was ridiculous.
June 26, 2021
Basically it it gets 2 stars for the beautiful international locations and for the fact that I laughed maybe twice. The plot made no sense, and if you follow EU politics at all, it's actually a bit depressing. The writing was so lazy that I have to assume that they blew all their budget on travel and actors so they had to hire a 9th grade drama class to write the script.
June 26, 2021
Perverted vile dialog !! , not needed or funny ! No need for it ! pure Garbage !