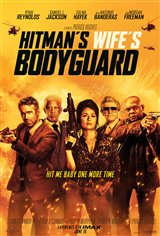 The Hitman's Wife's Bodyguard
| 21 Reviews
Write a Review
In Theaters: June 16, 2021
On DVD/Blu-ray: August 17, 2021
3.51/5
Based on 224 votes and 21 reviews.
Please rate between 1 to 5 stars
Showing 11-20 of 21 reviews
July 6, 2021
It has 5 top notch stars in this show and I was disappointed! Constant swear words in it. I am okay with some but this was ridiculous.
June 26, 2021
Basically it it gets 2 stars for the beautiful international locations and for the fact that I laughed maybe twice. The plot made no sense, and if you follow EU politics at all, it's actually a bit depressing. The writing was so lazy that I have to assume that they blew all their budget on travel and actors so they had to hire a 9th grade drama class to write the script.
June 26, 2021
Perverted vile dialog !! , not needed or funny ! No need for it ! pure Garbage !
June 25, 2021
I was waiting for so long for Free Guy to come out, and stranger things 4, and this was the best! Worth the wait!
June 24, 2021
Tried too hard to be funny, threw f-bombs left and right
June 23, 2021
I quite enjoyed the first one - it's story, humour and the chemistry between Ryan Reynolds and Samuel Jackson. This one mostly had Ryan playing third wheel to Samuel's and Salma's characters, and veered too often into slapstick. I also found Salma's character fairly unbearable. It had its moments, but I won't be watching this again for sure.
June 22, 2021
An unfunny cash-grab which has Samuel L. dropping his F-Bombs and Mother-F-bombs like candy. Would have been smarter for the likeable and usually funny Ryan Reynolds to push for a part 3 of his Deadpool franchise. Selma Hayek still looks foxy but what the hell happened to the once A-list Antonio Banderas? His wig was awful and his one-liners sound like they were written by a fifth-grader. A lot of CGI ( too much) in this movie and I kept looking at my watch to see if it was getting to the 2 hour mark…yep.
June 21, 2021
The first film was lame and didn't warrant a sequel; but it made a lot of money so we get another lame movie. Crapola!
June 17, 2021
The 1st was better but still worth watching. Salma was over the top