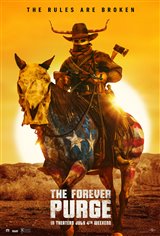 The Forever Purge
| 16 Reviews
Write a Review
In Theaters: July 2, 2021
On DVD/Blu-ray: September 28, 2021
2.19/5
Based on 38 votes and 16 reviews.
Please rate between 1 to 5 stars
Showing 1-10 of 16 reviews
December 28, 2021
As a Canuck, I felt it just sad how much of a political agenda this movie had - nothing about entertainment, just propaganda. Michael Bay? Well, that's not surprising - he should've retired after Transformers. I wouldn't consider this a Purge movie - the franchise was hijacked by whoever made this garbage. Yes films out there contain racism and politics but this one went too far.
July 29, 2021
portrays texas as a racist state. Makes it seem that all people who are white that live in texas are Nazi's. Terrible movie, I'm Mexican and live in texas and i promise you it is not like that here.
July 28, 2021
if you love your Country - avoid this farce - made by communists who hate America.
July 23, 2021
I didn't have high expectations because it didn't stick to the original theme but in the end I loved it and some of the characters had amazing arcs , I would definitely recommend it
July 11, 2021
Should have stuck to the theme with the other purge movies and leave out the politics.
July 9, 2021
Almost every scene is the worst of humanity; prejudice, hate, and the anger to get even all in exaggerated situations
July 9, 2021
This movie totally ruined the entire Purge series. This movie is anti-white, anti-American garbage.
July 8, 2021
Walked out - surprised move theater would show such a hate filled towards Texas and America movie.
July 6, 2021
If you hate America - you'll love this movie
July 5, 2021
There was lots of action and the story was great kept you exited no boredom and some good jump scares i rlly enjoyed this movie , the karen that gave a review here saying it was "racist" shut up damn 😐