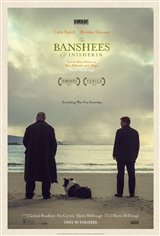 The Banshees of Inisherin
| 26 Reviews
Write a Review
In Theaters: October 21, 2022
On DVD/Blu-ray: December 20, 2022
R | Drama | 1h 49m
3.71/5
Based on 74 votes and 26 reviews.
Please rate between 1 to 5 stars
Showing 1-10 of 26 reviews
February 2, 2023
I hated it. Wished I'd never seen it. Guy flick... Worst kind.. ick. Loved Colin Ferrel and he acted well in it but the story is just awful.
February 2, 2023
Set against the macro story of the Irish troubles, friends live the micro stories of their art, their frustrations, their optimism or lack of it, and the ways they survive or not. Brutal and poignant. Don't miss it!
January 24, 2023
it is a slow burner type of movie, with great expectations... and then either you continue to expect and like that feeling for the entire movie... or you start getting bored, as nothing sensible or meaningful happens... kind of slice of life but too impossible to adhere to.... actors are fine yes, but nothing out of the extraordinary for these 2 guys... too linear... the finger thing kind of make no sense. the scenery is great yes, but eventually a cheap support to this weird story
January 10, 2023
Great scenery and great actors can't save a disturbing and unfunny story. Don't waste your time ... I did!
December 29, 2022
Way too depressing of a movie. The funny parts are overshadowed by the overall heartbreak.
December 20, 2022
don't miss this
December 8, 2022
I loved the hilarious way this projected peoples insecurities, intelligence and intentions. I must admit I felt a little sick after all the emotion. Definitely a movie that lets your mind go in as deep as you want to go. That's why I go to the movies to be moved
November 27, 2022
Breathtaking scenery. Yes, a bit gloomy, but that made the humour all the more surprising, welcoming and effective. My date and I laughed out loud quite a lot. We both loved it. The actors were excellent - all of them. Definitely a film worth seeing.
November 27, 2022
Men are stupid, for anyone who missed the memo.
November 25, 2022
Like a fable about the dark side of human beings but told with humor and great acting. I loved this movie.