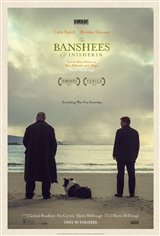 The Banshees of Inisherin
| 31 Reviews
Write a Review
In Theaters: October 21, 2022
On DVD/Blu-ray: December 20, 2022
R | Drama | 1h 49m
3.38/5
Based on 84 votes and 31 reviews.
Please rate between 1 to 5 stars
Showing 11-20 of 31 reviews
December 20, 2022
don't miss this
December 8, 2022
I loved the hilarious way this projected peoples insecurities, intelligence and intentions. I must admit I felt a little sick after all the emotion. Definitely a movie that lets your mind go in as deep as you want to go. That's why I go to the movies to be moved
November 27, 2022
Breathtaking scenery. Yes, a bit gloomy, but that made the humour all the more surprising, welcoming and effective. My date and I laughed out loud quite a lot. We both loved it. The actors were excellent - all of them. Definitely a film worth seeing.
November 27, 2022
Men are stupid, for anyone who missed the memo.
November 25, 2022
Like a fable about the dark side of human beings but told with humor and great acting. I loved this movie.
November 18, 2022
One always like happy endings but this is a great portrayal of the unique character of some Irish people
November 17, 2022
Starts out as a charming period piece, then turns into a bloody, disturbing horror of a film. Not reccomended.
November 17, 2022
The Emperor has no clothes, common sense, logic or sympathy for any characters except for the animals. Pretentious, deliberately depressive, a purposeless "arthouse", gore fest that left this viewer wanting a story that at least made sense. The Irish scenery deserved better too comparing a similar setting to Ryan's Daughter which gave us a riveting, emotional stirring drama from start to finish. Banshees is at best silly, worthless and at it's worst an example of the paucity of great small independent films in 2022. Even the Irish Coast, great leading men couldn't save it from itself.
November 14, 2022
Colin Farrell was outstanding as the Irish Simpleton. The movie is a parable for the Irish civil war but also explores the lack of depth in male friendships. It's original and worth seeing.
November 9, 2022
A shocking portrayal of the reality of isolation and self absorption. Beautiful scenery, Great acting. Profoundly disturbing.