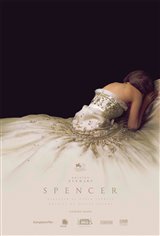 Spencer
| 24 Reviews
Write a Review
In Theaters: November 5, 2021
On DVD/Blu-ray: January 11, 2022
1.68/5
Based on 94 votes and 24 reviews.
Please rate between 1 to 5 stars
Showing 1-10 of 24 reviews
November 28, 2021
Hated it. DO NOT BOTHER UTTER BORING BS. Disgraceful.
November 19, 2021
Stewart is so miscast as Diana that this movie is laughable. She's too skinny, too introverted and awkward. She's completely androgenous, the opposite of Diana who was feminine, had a beautiful figure and always looked like a woman, even when she was bulemic, she was never as skinny as Stewart, who has no shape at all. She's a stick figure. Her accent is not only atrocious, it's hard to understand what she's saying at the best of times because she rushes through her lines. What a disaster.
November 18, 2021
The photography and production design are lush, but the "story" is so dull as to be nonexistent, and Stewart gives a Razzie-worthy non-performance. Give this one a big miss unless you're looking to cure your insomnia.
November 17, 2021
Just when you think this storyline can't get any more painful...Surprise , yes it can!
November 17, 2021
Good tell it like it was living under so many rules and feeling left out. Makes you appreciate the freedom we have in America. Educational.
November 16, 2021
Horrible casting, horrible movie🤮🤮🤮 Just wasting time and money 😡
November 15, 2021
Stewart was terrible. The movie is a bore.
November 13, 2021
Kristen Stewart is not even close to looking like Diana. Plus she doesn't capture her spirit st all. She was a fighter not a tragic victim.
November 12, 2021
Could only take about 45 minutes of this movie......didn't want to waste more of my time sitting through it so I left.
November 11, 2021
I thought this movie was worth trash,I was very disappointed seeing a Person puke throughout the whole movie,I was better off seing the Adams family.don't waste Your Money!