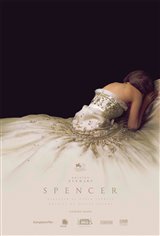 Spencer
27 Reviews
|
Write a Review
In Theaters: November 5, 2021
On DVD/Blu-ray: January 11, 2022
1.85/5
Based on 104 votes and 27 reviews.
19.23%

1.92%

0.00%

1.92%

76.92%
Please rate between 1 to 5 stars
Showing 11-20 of 27 reviews
November 13, 2021
Kristen Stewart is not even close to looking like Diana. Plus she doesn't capture her spirit st all. She was a fighter not a tragic victim.
November 12, 2021
Could only take about 45 minutes of this movie......didn't want to waste more of my time sitting through it so I left.
November 11, 2021
I thought this movie was worth trash,I was very disappointed seeing a Person puke throughout the whole movie,I was better off seing the Adams family.don't waste Your Money!
November 9, 2021
If I could give it less than one star I would - that's how bad it was
November 9, 2021
To call Stewart wooden would be an insult to forestry.
November 8, 2021
I really got into this movie. Not alot of action , more a thinking movie . I thought it summed up rather well what Lady Diana's life was like during her time with the monarchy .
November 7, 2021
Rotten film. I remember when films from Britain had real conflict. Those days are gone.
November 6, 2021
Intense movie
November 6, 2021
A non-movie. Terrible!
November 6, 2021
Boring trash about the worst people