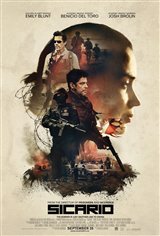 3.86/5
Based on 78 votes and 27 reviews.
Please rate between 1 to 5 stars
Showing 11-20 of 27 reviews
October 18, 2015
Excellent movie, well acted. We can relate to Emily Blunt's character, who goes into the situation "blind" as we are feeling the same way...we learn bit by bit how futile and how political the war on drugs is.
October 15, 2015
I always like Emily Blunt and when I saw all these great reviews I saw this movie but sincerely wish I hadn't. It was completely depressing. Mutilated corpses hanging from city wires is not something I need to see, even if it's true. It does make you aware of how huge and violent the drug trade is and how the Americans (and Canadians) perpetuate it because they want to use cocaine. I understand how the Colombian wants revenge for his wife and daughter but he over-avenges them and you change from feeling sorry for him to hating him. He's like the Law-Abiding Citizen (which I also hated) who goes to such extremes to avenge his family that he goes from victim/hero to villain by the end.
October 15, 2015
Terrific movie and very easy to understand...
October 14, 2015
EXCELLENT!! I Love movies that have the Conspiracy angle!!! The Government Operates at a Level way beyond the Public can even Imagine or accept!!
October 14, 2015
Sorry. I was expecting so much more. Found it to be confusing and really difficult to understand the whole premise of the movie. I would not recommend this movie in any way whatsoever.
October 11, 2015
A stunning film that keeps you on the edge of your seat for 2 hours. Del Toro is masterful. Great acting, direction and script!!!
October 11, 2015
Twists and turns along the way make this an incredible movie. The last ten minutes will leave you breathless and shaking your head!
October 11, 2015
Brilliant movie. One of the best I have ever seen. Phenomenal acting.
October 9, 2015
I liked this movie because it gives a glimpse into the cartel world and the impact of drugs on both sides of the border.
October 7, 2015
Corpses hidden behind walls and hanging from bridges, torture, much blood and shooting, a Rambo type plot that isn't plausible and a lot of driving through the Arizona and Mexican countryside to satisfy one man's revenge, while keeping the female protagonist (and the audience) in the dark and wondering what the H is going on -- that's my summary of this movie. A few great aerial scenes, however this movie isn't for thinkers.