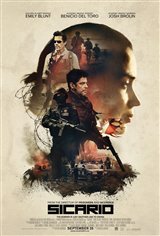 Sicario
27 Reviews
|
Write a Review
In Theaters: September 18, 2015
3.86/5
Based on 78 votes and 27 reviews.
50.00%

22.22%

2.78%

13.89%

11.11%
Please rate between 1 to 5 stars
Showing 21-27 of 27 reviews
October 5, 2015
The movie was very entertaining. The story was great, acting was excellent with just the right amount of twists, suspense and action. For a second I thought it was an independent film because of the style it was made - very non- Hollywood like. I mean that as a compliment...
October 5, 2015
DO YOU REMEMBER THE FIRST TIME YOU SAW THE MOVIE "PLATOON"? THE EXPERIENCE WAS INTENSE, SPELL BINDING, AND CHILLING BECAUSE IT ALLOWED MY GENERATION TO SEE THE REALITY OF THE VIETNAM WAR. 'SICARIO' ALLOWS THIS GENERATION TO EXPERIENCE THE REALITY OF AN ENTIRELY DIFFERENT WAR 'THE WEST IS PRESENTLY IS ENGAGED IN. I HIGHLY RECOMMEND 'SICARIO' BECAUSE THERE IS NO WEAKNESS WITH ANY ASPECT OF THIS POWERFUL DRAMA.
October 3, 2015
Awesome movie! "Say hello to my little friend!" Fricken good! Loved it!
October 3, 2015
Emily Blunt was great and Mr. Del Torro was outstanding. Can't imagine the rot and death amidst the drug world. This film gives us a glimpse. The people involved are less than humans we know, and we should know. Well done on every level.
October 3, 2015
Best movie I've seen all year . A truly mesmerizing look at the brutality and nihilism of drug trafficking and Cartel bosses and assassins
October 2, 2015
Very interesting subject matter handled in a realistic manner. In the end game there are no winners.
October 1, 2015
AMAZING