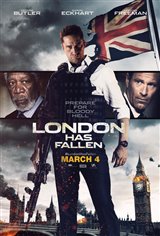 3.86/5
Based on 134 votes and 44 reviews.
Please rate between 1 to 5 stars
Showing 31-40 of 44 reviews
March 9, 2016
I was entertained. Great Movie! Though got emotional at the beginning, some lines in between were funny. Gerard Butler was great, along with Morgan Freeman, awesome action movie.
March 8, 2016
Worst piece of crap! First one sucked just as bad. Ugh. I'm surprised Steven Seagal didn't star in it. It was that magical. Skip it at all costs.
March 7, 2016
Action film of the year.
March 6, 2016
the first one was better....second one is too predictable...i mean another movie that a zillion bullets gets around and hits everybody but him...and them there's him and the President only in England...that would never happen....and where did all these bad guys come from EVERYWHERE they go? Sorry but even though the first one's story was a little bit like "that can't happen in the states," i wouldn't get out of the house if that much chaos could happen in a place like london... action was ok...
March 6, 2016
I want to go see it again, that is how good it was! :)
March 6, 2016
Great movie? Why are the critics so fueled by their leftist, politically correct agenda? (Critics on average gave it a 1.4/5? I see nobody giving it a 1 or 2 or even 3 stars for that matter. Tough luck to the critics, as that this film depicts the evil ones as the evil ones (the same ones that commit suicide attacks at a rate of 99% of all such attacks). Finally, Hollywood produces a film where the world is not upside down with the good evil, and the evil good. This is why we are seeing the general moviegoer loving this movie.
March 4, 2016
Outstanding action! Better than Die Hard
March 4, 2016
I love it, a good movie is a good movie
March 4, 2016
This is one of the best action movie I've seen in the last 5 years. Good car chases, awesome fight scenes, lots of funny one liners. Great entertainment!
March 4, 2016
Certainly the best action movie of 2016. Too bad the Oscars are fixed or this would draw awards...