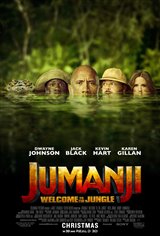 Jumanji: Welcome to the Jungle
127 Reviews
|
Write a Review
In Theaters: December 20, 2017
On DVD/Blu-ray: March 20, 2018
4.2/5
Based on 444 votes and 127 reviews.
61.46%

18.75%

6.25%

5.73%

7.81%
Please rate between 1 to 5 stars
Showing 51-60 of 127 reviews
January 20, 2018
It's OK
January 19, 2018
It was okay the original was BETTER The Rock. Kevin Hart and Jack Black was the reason for the movie
January 18, 2018
Loved this movie! Funny with lots of action. Was better than I expected!
January 17, 2018
Enjoyed it! I thought it was pretty funny.
January 17, 2018
Lol is just a movie. I did not get offended when they crossed sexes.
January 17, 2018
It's a very silly and devoid of imagination script. I was bored to tears.
January 16, 2018
Movie was funny and not as dark as the original. All the actors were great. Better than the first one.
January 15, 2018
Loved it! Want to buy it!
January 15, 2018
Loved it!
January 15, 2018
Disappoint. am not a prude, but am tired of hollywood elites in their social experiments of cross sexual crap...thought it would be fun like robin wil. movie but was offended when girl becomes man and flirts with all other men and they have to show him how to use penis to pee. WHEN WILL THEY LEARN WE JUST WANT TO SEE FUNNY WITH GOOD STORY LINE WITHOUT ALL THE CUSSING, SEX AND GUNS LIKE THEY USED TO MAKE....TIRED OF IT THATS WHY EVEN THIS KIND OF MOVIE INSULTS SOME OF US WHO STILL CLING TO GOD AND GUNS!!!!!!!!