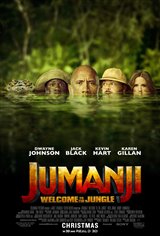 Jumanji: Welcome to the Jungle
| 127 Reviews
Write a Review
In Theaters: December 20, 2017
On DVD/Blu-ray: March 20, 2018
4.2/5
Based on 444 votes and 127 reviews.
Please rate between 1 to 5 stars
Showing 41-50 of 127 reviews
February 9, 2018
I was surprised that nick Jonas in it am totally in love with him
February 8, 2018
High degree of humor. Not similar to the original but fits in perfectly.
January 31, 2018
Just came back from seeing this movie in 3D, it was hilarious. I have already been a fan of Dwayne Johnson, Kevin Hart, Jack Black, and Nick Jonas, and I had seen Karen Gillian in Guardians Of the galaxy, but I wouldn't have said that I was her fan, but this movie changed that, she was kickass in this movie. This movie was a hilarious laugh riot from beginning to end, especially the scene where they are teaching betthany(Jack black in the game) how to use a penis. I usually don't laugh at dick jokes, but I gotta admit that was one hilarious dick joke. As for the director, I can't believe that his previous film was 2014s Sex Tape, I mean, how could he have even thought to direct that movie instead of something like this, this is more of his type of film. This is my new favorite comedy film now, in a way this movie was kinda like The Breakfast Club for the current generation.
January 29, 2018
I loved this movie seen it twice, unlike the first one with Robin that was kinda creepy, this one was sooooo much fun. Excellent would highly recommend it
January 28, 2018
This movie was very good. The cast was great.
January 28, 2018
One of the best comedy movies in years! The Rock was fantastic and overall a great family movie!
January 27, 2018
Very funny good action
January 26, 2018
My son and I really liked this movie. I liked the first Jumanji with Robin Williams but this one was even better. We liked the humor and the characters portrayal. The Rock and Jack Black were fun to watch!
January 23, 2018
Excellent movie for all ages