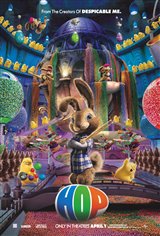 Hop
87 Reviews
|
Write a Review
In Theaters: April 1, 2011
4/5
Based on 290 votes and 87 reviews.
43.26%

31.91%

13.48%

4.26%

7.09%
Please rate between 1 to 5 stars
Showing 41-50 of 87 reviews
April 14, 2011
Don't waste your time if your youngest is over the age of 6. The bunny was the only redeeming quality of a long, overacted snore-fest.
April 10, 2011
horrible boring movie suggesting you don't go see it little kids movie
April 9, 2011
It was truly amazing, the best movie of the year if you ask me.... which you did ;)
April 9, 2011
It's a totally brilliant movie! Thoroughly intense and humorous!!! Perfect for kids and adults!!! ;)
April 9, 2011
If I had just followed the reviews I never would have seen it. It is charming and funny in a low-key way.
April 9, 2011
Very cute! But the plot is so full of holes… so while kids might think it's cute, overall it's a slow climb to a disappointing climax. At least the animation was top-notch.
April 9, 2011
five stars! it's very very funny for all ages!
April 8, 2011
Omg so awesome now what about the jelly beans?
April 8, 2011
it rocks!!!!!!!!!!!!!!!!!!!!!!!!!!!!!!!!!!!!
April 8, 2011
awesome