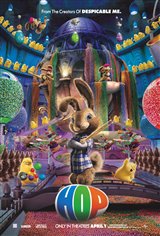 Hop
87 Reviews
|
Write a Review
In Theaters: April 1, 2011
4/5
Based on 290 votes and 87 reviews.
43.26%

31.91%

13.48%

4.26%

7.09%
Please rate between 1 to 5 stars
Showing 31-40 of 87 reviews
July 9, 2011
Awsome movie to watch with the young kids they will like it!
July 9, 2011
It's very cute, and has an awesome ending (in my opinion) that helps kids realize, they CAN be anything.
July 9, 2011
What a waste of time and space. I can't believe some people actually rated this 4*. clearly they are people with easily amused brains.
July 8, 2011
Hop was funny but not as funny as I thought it would be.
June 3, 2011
awsome
April 19, 2011
I had a high expectation from this movie and they let me down :( It was not that funny and the story line suck. The graphic is great through. (rio is way better)
April 19, 2011
Pretty funny, an adorable movie for kids, and pretty good for adults too. Worth the money spent to see it in theaters instead of waiting for it to come out on dvd.
April 18, 2011
This movie had only 5 or so funny scenes or lines. The were all in the commercial. :(
April 17, 2011
awsome movie sooo funny
April 16, 2011
AWSOME!!!!!!!!!!!!!! you have to see it.