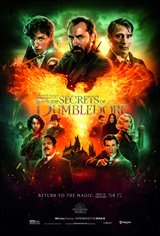 Fantastic Beasts: The Secrets of Dumbledore
| 29 Reviews
Write a Review
In Theaters: April 15, 2022
On DVD/Blu-ray: June 28, 2022
3.34/5
Based on 102 votes and 29 reviews.
Please rate between 1 to 5 stars
Showing 21-29 of 29 reviews
April 18, 2022
I cried three times it was an emotional Rollercoaster
April 17, 2022
I enjoyed this, just love being back at the movies, with this pandemic we are lucky movies even got made these last two years..I like the actors in this and found it well worth seeing!
April 17, 2022
Fruity stuff for the kids.
April 17, 2022
There's nothing fantastic about this one. WHAT'S THE MATTER WITH YOU?!?
April 15, 2022
Funny at times, confusing characters mostly disappointing
April 15, 2022
Good story line, plenty of action, comedy, plot twists. Can't wait for the screenplay to be released and will purchase the movie when released. JK Rowling did a great job with this one.
April 9, 2022
I liked everything about it; from the story line to the characters, and the actors portraying them, this movie is a must see. It's packed with comedy, suspense, horror and romance. I do wish the producers had stayed with Johnny Depp; he had a flare about him that Mads Mikkelsen does not. But other than that I am looking forward to watching this film over and over again.
April 8, 2022
I didn't know they were still making these.
March 28, 2022
What I like is how it tells the tell about Dumbledore life before Harry and who Dumbledore greatest foe was... My dislikes well probably be if I had one about the movie we'll probably be they changed the actor on grindelwald not sure why Johnny Depp left but I'm sure it we'll still be a great movie neither the least can't wait OMG