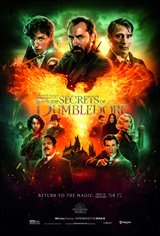 Fantastic Beasts: The Secrets of Dumbledore
| 26 Reviews
Write a Review
In Theaters: April 15, 2022
On DVD/Blu-ray: June 28, 2022
3.56/5
Based on 90 votes and 26 reviews.
Please rate between 1 to 5 stars
Showing 1-10 of 26 reviews
May 16, 2022
can't get enough
May 15, 2022
The characters, integrated with the special effects graphics amazingly done, very good animation. A generalized family movie definitely to see and enjoy.
May 13, 2022
I loved it. The action, the characters and the thread that only comes when you have seen all three movies and all of Harry Potter. Inorder to enjoy this movie, you have to understand the characters that have evolved over time.
May 9, 2022
The graphics and computer animation integration is seamless. Though it's over 2 hours long, the fact that the movie doesn't have slow periods, I did not notice the length at all.
May 3, 2022
This is an awesome series and the third installment of Fantastic Beasts does not disappoint. Many questions answered, but not all; because of course, there are supposed to be 2 more movies. All the cast members are so good in their roles. The movie has action, humour, pathos, suspense, and really, a little bit of everything that makes a story entertaining. Love it! ?
May 1, 2022
What a disappointing movie stay home do not waste your hard earned money
May 1, 2022
Do miss Johnny Depp as Grindelwald
April 27, 2022
if you like the Potter series, this is a.great continuation.
April 26, 2022
Was so happy to return to the wizarding world. Moments of suspense that had me enthralled in the movie.
April 26, 2022
I couldn't make head nor tails of the story. The beginning is so obscure that you have no idea what it is about until the end. What in the World being gay had to do with this story is beyond comprehension. It didn;t nothing more than make the movies WIERD and mind-numbing. The fact that J. K. Rowling signed off on this PIECE OF TRASH is mind boggling!