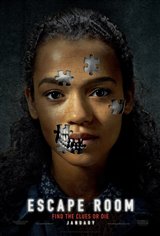 Escape Room
20 Reviews
|
Write a Review
In Theaters: January 4, 2019
On DVD/Blu-ray: April 23, 2019
3.15/5
Based on 54 votes and 20 reviews.
30.77%

19.23%

11.54%

11.54%

26.92%
Please rate between 1 to 5 stars
Showing 11-20 of 20 reviews
January 20, 2019
The whole story and concept is like the replica of the movie Jigsaw except this one is less extreme and non-brutal. Not boring but pretty intense, I enjoyed this movie!
January 18, 2019
Excellent. Very fast-paced.
January 16, 2019
Should be banned.stupid stupid stupid
January 13, 2019
Very entertaining movie. The ending was a little dull but there was plenty of action and intensity throughout. Heart pumping and thrilling!
January 11, 2019
Best movie I have ever seen! Will see it tonight for the 6th time! Highly recommend.
January 8, 2019
What can I say just terrible. Don't waste your time and money. Go see aquanan or something else. You sent missing much by not seeing this
January 6, 2019
Horror not really. It was not bad but the ending totally lame. I did enjoy it all the way through but when they go back with the police the outcome is terrible. That is what ruined it for me. Will not watch again. Don't waste your time and money for this trash
January 5, 2019
Movie was decent. I would recommend it. had some thrilling spots and a decent plot.
January 4, 2019
2.5. Lame premise with lame cast. Don't waste your time
January 1, 2019
great movie for the entire family.