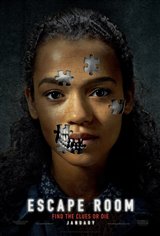 Escape Room
| 20 Reviews
Write a Review
In Theaters: January 4, 2019
On DVD/Blu-ray: April 23, 2019
3.15/5
Based on 54 votes and 20 reviews.
Please rate between 1 to 5 stars
Showing 1-10 of 20 reviews
January 12, 2021
I expected much more from this - was disappointing.
May 24, 2019
don't waste your time
April 28, 2019
More a thriller than horror... was entertaining for a rainy day
March 6, 2019
I loved escape room not too scary but not too boring
February 17, 2019
Escape Room manages that difficult trick of taking a group of boring characters with obvious overstated purposes in a seen it before plot line with a highly predictable resolution AND somehow create suspense and tension. An exciting Fahrenheit 451 beginning. Is almost immediately undercut by a protracted adventure in a marina like winter world. And in an almost no that we've lost your attention effort the rest of the movie becomes Less about discovering and more about getting throug it so that the movie can let us know we have been set up in an escape room from the get go. Attempting to surprise us with a twist the movie begins anew telling us the story it really wants to tell about greed and powerlessness and conspiracy. And it is here we learn that no one ever escapes as we are set up to return to the theatre for escape room 2. The second floor or some other I'll aptly named sequel. We are pawns in corporate greed attempting to trap us in yet another mediocre horror franchise. Don't buy the ticket.
February 13, 2019
The ending was also AMAZING IT WAS LEGIT! Btw I'm the same person if the review from the one before this one.
February 13, 2019
This movie was AMAZING the acting is great but my fav character died which is kinda sad, I'm extremely young but I have seen more horror movies than anyone in my family, and this is one of my favs.
February 8, 2019
Terrible. I left after half an hour!,, waste of time and money!,,
February 4, 2019
good movie
January 29, 2019
Two words off brand and predictable.