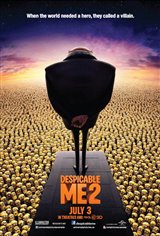 4.4/5
Based on 240 votes and 95 reviews.
Please rate between 1 to 5 stars
Showing 31-40 of 95 reviews
November 3, 2013
Very entertaining. Never saw first movie so missed a few of the references but still worthwhile.
November 2, 2013
Best movie kids & adults will love it
November 2, 2013
This movie was really funny, the minions are adorable. Go see it because of cute, little yellow minions. What's not to like about that?
November 2, 2013
Despicable Me 2 builds upon the first movie but ultimately falls short of awesomeness. Steve Carell returns to voice the not-so-villainous villain Gru, along with the adorable minions. Gru is now adapting to the family life when his minions start to go missing and he has to find out who's taking them and why. It's a good animated movie that children and adults alike will have a good time with, but that's pretty much it. It doesn't venture beyond our expectation and the plot twists and surprises aren't really that surprising. If you loved the first movie, you'll definitely have a great time watching this one. However, if you're looking for a 'Toy Story' animation quality, this might not be fo
November 2, 2013
Awesome movie! It is great for the entire family and is not just another sequel, it's a great movie of its own. I would really recommend it!
November 2, 2013
Loved lovedloved this. I even dressed up as a minion for Halloween..lol
November 2, 2013
I enjoyed the movie and loved the minions. Good story and as good as the original.
November 1, 2013
Fun for the whole family
November 1, 2013
A wonderful sequel to the hilarious original, Steve Carell's performance is great and the kids are cute and funny as usual. Can't wait for the next one!
November 1, 2013
The minions in this movie are sooooooooooo cute!!! They almost steal the whole show by themselves. Those who watched part 1 and liked it must not miss out on this sequel~~~