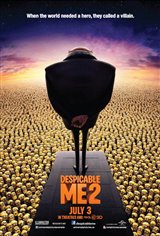 Despicable Me 2
95 Reviews
|
Write a Review
In Theaters: July 3, 2013
4.4/5
Based on 240 votes and 95 reviews.
61.40%

26.32%

6.14%

3.51%

2.63%
Please rate between 1 to 5 stars
Showing 1-10 of 95 reviews
January 4, 2014
Pretty good with a lot of fun moments. I still prefer the 1st one though.
December 26, 2013
Better than the first, loved it
November 18, 2013
My children loved it. It was a great movie.
November 18, 2013
Great cartoon for kids and parents. better than the first
November 18, 2013
What a great film. Like most "kids" movies these days, and much like Despicable Me, this sequel is full of great dialogue, plot twists and humour suitable to any adult viewer who has an ounce of kid left in them. The animation is smooth, the story a perfect continuation of the first with a continuation of character development right up to the last moment. Attention has been paid to dialogue, and specifically to those cute little minions. No wonder everybody wants one for themselves! Overall, it's the combination of smooth animation, solid storyline and intelligent dialogue that make this the perfect movie for kids and adults alike.
November 17, 2013
Extremely funny and heartfelt movie!
November 17, 2013
A very good movie, the whole family loved it. Very funny and super entertaining
November 17, 2013
Close in beating the first Dme . Love the minions and the story line was good. Waiting for Dme3
November 17, 2013
Super cute Movie. Can't get enough of the Minions. Giggles.
November 16, 2013
loved it. it not only contained adventure and action, but it was funny as well.