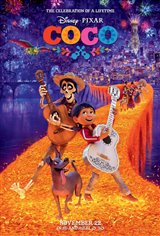 4.05/5
Based on 304 votes and 62 reviews.
Please rate between 1 to 5 stars
Showing 1-10 of 62 reviews
July 11, 2018
A great movie, life, family, and all the great music ... My kids like to look at beautiful cartoons using boxxy software!
April 29, 2018
Great heartwarming movie story!! A real masterpiece!!
February 8, 2018
was one off the best movie I see
February 6, 2018
the story is so moving and touching that i cannot help crying. it reminds me my grand parents. i wish they are all well in heaven. thanks you for bringing us such a great movie.
February 3, 2018
I love it ! Its a beautiful movie sowing some mexican costumes. Its a great movie .
February 1, 2018
A seminal film achievement! It's a picture about the human condition in what it means to love, redeem, and preserver through music and self expression. I loved every minute of Coco. One for the history books. What a great, great film achievement!
January 27, 2018
My 7 year old loved this movie! My older family members loved this movie. It was above and beyond our expectations. It brought laughter and tears and memories for what we mostly take for granted. The theme touched on all levels of sacrifice and commitments one makes for family. And it was funny!
January 24, 2018
The theme of honoring your family legacy, for the past and for generations to come.
January 23, 2018
It's about Family that passed on, it show the core value of the family dynamics that makes us realized the importance of family members, alive or had passed on. It made me missed my mom and all other families that made me who I am today.