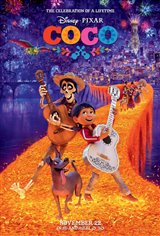 4.05/5
Based on 304 votes and 62 reviews.
Please rate between 1 to 5 stars
Showing 21-30 of 62 reviews
January 4, 2018
Wonderful cinematography and sweet story line are inspirational.
January 1, 2018
Adored it. Wonderful characters, color, animation and story line. Fabulous. And I will go again before it leaves town, and take my daughter and sister, too.
December 25, 2017
The best animated movie of the year!
December 20, 2017
I expect more of disney, this was a wast of time and money.
December 12, 2017
Following the success of last year's Moana, Disney's latest is an exploration of another culture rarely seen on screen. Coco presents a dazzling and heartwarming depiction of the Mexican people, and one of their most important fiestas, in the most visually stunning animation I have ever seen. I knew nothing about the culture going into this or what Dia de los Muertos was truly about and films like these are incredibly important, especially for children, to learn about cultures apart from their own. I hope Disney continues this trend and I can't wait to see what other heartfelt stories they bring to the screen.
December 12, 2017
One of the best pieces of Pixar. A message of love, traditions, forgiveness and perseverance. Those who rated the movie as less than 3 stars I totally doubt they saw it.
December 11, 2017
My grandson and I loved this movie. The characters, the music, the animation, the colours were fantastic. Loved ,loved ,loved the story. Important message about family and aging. Can't wait for the DVD
December 10, 2017
Kind, powerful, musical animation movie. Great for entire family!!
December 9, 2017
Is very good
December 9, 2017
Not really a kid's movie and be aware of the 30 min short movie...........before the actual movie. :(