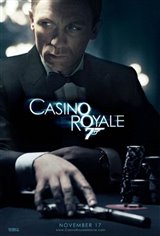 4.33/5
Based on 8420 votes and 468 reviews.
Please rate between 1 to 5 stars
Showing 51-60 of 468 reviews
January 3, 2007
They have taken the "Super" out of SuperSpy and made him. Plain run of the mill.
January 3, 2007
Danial Craig just BECAME James Bond in this movie. Great performance. Great action. Great film.
January 3, 2007
one of the best bonds ever!
January 3, 2007
great best bond movie since golden eye, may possibly be the best bond yet
January 3, 2007
I LOVED EVERY SECOND OF IT! THE NEW GUY IS REALLY REALLY GOOD! THE BEST 007 MOVIE YET. IT HAS THE MOST ACTION, EVEN MAKES YOU JUMP ONCE OR TWICE. NON-STOP ACTION AND IT LOOKS ALL REAL FIGHTING UNLIKE THE OTHER ONES WHERE THEY R WAY OVER THE TOP AND MAKE FX TO DO ALL THE WORK WELL THIS ONE WAS EVEN BETTER THAN WHAT I EXPECTED. 10 STARS. I WANNA SEE IT AGAIN AND AGAIN AND AGAIN.IT EVEN MADE YOU LAUGH A FEW TIMES! A MUST SEE MOVIE! GIVE THESE GUYS AN OSCAR! THANK YOU FOR READING THIS REVIEW. BRIAN BEBEE.
January 2, 2007
it was good....but a little too much "poker playing"
January 2, 2007
Absolutely superb!!! Daniel Craig is the most real Interpretation of 007 ever. This film harkens back to the early Sean Connery films in it`s grittiness. No cheesy gadgets and a great departure from the formulaic approach of the past two decades. The only flaw, in my opinion, is a flagrant continuity flaw with Dame Judy Dench as "M". Any true Bond fan will tell you, she was introduced as a replacement in Pierce Brosnan`s debut film Goldeneye. Thus not the "M" who grants Bond 007 status.
January 2, 2007
This movie was really intense, partly humorous and had great acting! 5 * all the way and I <3 (loved) it. I recommend it all the way
January 2, 2007
A classic james bond, however some scenes lagged on a little to long and there was a bit of repetition in the scenes as well. It was nice to see the film done with less jazz like the others, which always kept you guessing and interested.
January 2, 2007
ohhhhhhhh!!!!!!!!!!jst luvly no wrds 2 say aaaammmmaaazing i lik dis movie its much better than the oders...m a big fan of MR.BOND...hes GREAAAAT ......